Steel Purlins and Sections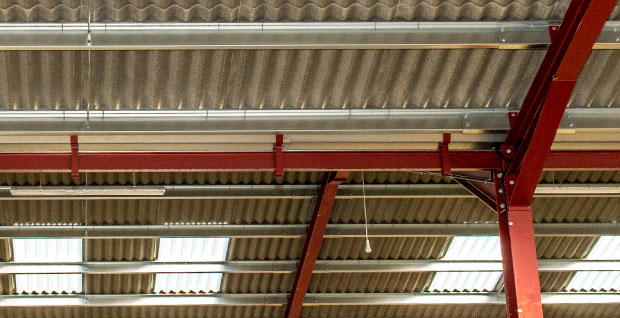 Recent investment in a state of the art automated purlin roll forming line, has extended Thomas Panels and Profiles comprehensive range of quality purlin and section products.
We now offer Z, C, Eave and Sigma sections from 100mm to 400mm in depth and from 1.2 to 3mm in thickness.
Our automated manufacturing facility is capable of producing sections of any depth within this range, so in addition to our standard section and hole punching sizes, we cater for bespoke designs, matching to alternate manufacturers or existing systems.
Here at Thomas Panels and Profiles, we take seriously the quality of our load bearing products.  Our load calculations are based on actual physical testing as formulated by the Steel Construction Institute.  We only purchase pre- hot dipped galv steel, coated to G275 Z39 with a minimum yield of 390M/mm2 steel for the manufacture of our purlins and sections.  We have full in-house traceability and as we as make products to order, you get exactly what you need.

Z Purlins are light gauge steel sections/rails/mezzanine floor components for agricultural, industrial and commercial projects. Purlins are integral to the stability of the structure connecting rafters/beams from 800mm to 10M bays.
Thomas Panels and Profiles steel purlins are made from dipped galvanised steel; coated to G275 239 with a minimum yield of 390N/M2
Z Purlins (roof) or side rails (walls) can be connected using a sleeved or butted system
Sleeved
This system is used on a building with 3 or more bays.
The sleeve sits on the cleat and connects two Z Purlins on one plate.
This adds to the strength and rigidity of the structure.
Butted
This system is used when the structure has small spans or light loadings. It is also used when the application does not allow the use of a sleeve, eg within the web of the rafter.
Thomas Panels and Profiles steel sections have all been tested and designed to meet the BS & European Standards.
At Thomas Panels and Profiles we have a full range of standard sections for all of your new build projects. We also have the ability to match existing designs for refurbishments or extensions.
Sag bars
Connected between the purlins to avoid the purlin twisting mid bay. Also hold the button flange in place under uplift conditions.
Rolled from galvanized steel to the exact measurement required to ensure an accurate application.
Apex Ties
A small section designed to hold the top two roof purlins in line and tie up both sides of the slope together.
Diagonal Wire Ties
Used in horizontal application (side rails), in conjunction with side rail, supports to hold the sections level.
There are 3 basic applications of Diagonal wires ties
Mid Bay Support System
Split Bay Support System
Part Bay Support System
Bolted to the cleats on the column then together under the side rail support at the centre bay.
Generally used on bays ranging in size from 4.5M to 6M
Spilt Bay Support System
Used on bays over 6.1M to 9M
Two side rail supports to add additional strength and support side rails.
Wire Ties fixed to cleats on the column, and to the underside of side rail support.
Part Bay Support System
Similar to the Mid Bay Support System, but in this case only half of the bay needs to be supported as there is a door post to the side.
Side Rail Supports
Galvanized support bars designed to add stability to side rails.
They are used in conjunction with diagonal wire ties to ensure that the rails remain level while adding stability against wind pressure or suction loads.
All holes in the cleat of section are designed to connect the side rail holes.
Eaves Beam to side rail supports.
Galvanised support bar joining the underside of the Eaves beam to the side rails. Bolted the same way at the side rail supports.
Eaves Ties
Galvansied, tying the eaves beam to the first Z Purlin up the slope.
The cleat connected to the eaves beam is at an angle (due to the pitch of the roof) so it will pick up the  Z Purlin up the slope.
Bolted to the face of both the eaves beam and the Z Purlin it holds the sections level and strong.
With two styles and three depths avaible all applications are covered. Made from a minimum 2mm glav, the eaves beam can be used in conjunction with its primary use of tiering and stabilizing the columns as a valley beam/gutter support/parapt rol.
The fundamental use of an eaves beam is to:
Prevent the twisting created by eaves gutters and roof cladding
Create a stable structure for the horizontal sections to be connected
The dispersion of wind loads into the roof structure
Two styles available are Recessed & Flat Faced
Can be cooled to +20 down to -20 (in case of monopitch) and up to 9M long
The face of eaves beams also doubles up as the fixing point for the top of your wall sheets.
C sections are made from galvanized steel and can be used in conjunction with Z Purlins and side rails for the same building.
Z's and C's can share the same cleat but cannot be joined by sleeve. They are extremely versatile and can be used for many different applications, however the following are most common.
Vertical Sheeting rails
C sections can be used as an alternative to side rails, sitting on cleats between columns or on the face with the same section size as a Z Purlin, they can cover bays up to 9M in length.
They also have enough strength that they do not always require side rail supports or diagonal wires ties.
The flat sections makes a C Section perfect for above doors / windows or a door frame.
Brick work restraints
A building with a brickwork base requires a closing section that can be easily fixed to without leaving a cavity. C Section is perfect for sitting on top of the bricks and blocks offering a solid base to build from.
Mezzanine Floor
Possibly the most common use for a C Section.  With multiple section sizes and thicknesses they offer the perfect component for mezzanine floors where excessive weight may be used. C Section has an excellent strength to weight ratio which means that the structure is not left with heavier sections, resulting in an easier construction.
A face to face application results in a mini pad tied together using threaded bar which will reduce any twist and optimize strength.